Sponsors
Thanks to these people and companies for helping to make GoRuCo possible:
Host

Google's innovative search technologies connect millions of people around the world with information every day. Founded in 1998 by Stanford Ph.D. students Larry Page and Sergey Brin, Google today is a top web property in all major global markets. Google's targeted advertising program provides businesses of all sizes with measurable results, while enhancing the overall web experience for users. Google is headquartered in Silicon Valley with offices throughout the Americas, Europe and Asia. For more information, visit www.google.com.
Party Host

Indaba Music is a new website that musicians and music professionals use to connect with one another and create music online. It is an international community of musical collaborators exploring the creative possibilities of making music with people in different places. Indaba sessions can be public, private, for-hire, or for-free. An easy-to-use set of collaborative tools, including a powerful audio production console, enhance whatever type of collaborative experience people choose.
Empire Sponsor

Started over a year ago, StreetEasy.com is a small startup that has become one of New York's most popular online real estate resources for rentals and sales. With millions of page views a month and thousands of users every day we have changed the way that consumers search for real estate in New York. We are powered by Ruby on Rails (we started with RoR 0.8), growing fast, and we are always looking for good programmers!
Sponsors

Obtiva is pushing the envelope in the agile and Ruby on Rails communities. Our developers have been actively using Ruby since 2001 and are leveraging Rails to rapidly deploy maintainable applications for our clients. Out of our project experiences, we have assembled two training classes: "Ruby on Rails TDD Boot Camp" and "Enterprise Ruby: Bending Rails™".
---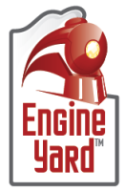 At Engine Yard, we focus on Rails application deployment and operations support, so you can focus on developing your app and your business.
Many customers start in the development phase and grow to hundreds of thousands of users, without hassles along the way.
Start with 1 slice on our cluster, then grow to 20 slices, then to dedicated clusters in our data center or yours – all without changing your code. Literally develop on your laptop, then deploy with ease.
And we're always here for you, 24/7, by phone, email, and web:
(866) 518-YARD
info@engineyard.com
www.engineyard.com
---
GoRuCo also thanks Jonathan Summer for his support.
Posted by Francis Hwang on Feb 24, 2007